Resources
Fraud Awareness
With rapid changes in technology the best way to protect yourself is to stay informed on current threats. Fraudsters are finding new ways to scam consumers. Some of these methods are phishing, malware, hacking, and mail theft.
Phishing is when fraudsters portray themselves as a business in order to trick you into giving them your personal information.  If you are contacted by email/phone/mail and things seem suspicious do not reply and contact the institution directly. Common scams request you to send wires or money orders in advance over any other method of payment.
Malware is considered any software that is malicious, this includes viruses and spyware. These unwanted programs can log your keystrokes, send spam, and even prompt you to buy software that isn't needed among other things. Some of things you can do to lower your risks are keep your PC updated, use pop-up blockers and anti-spyware/virus software.  
Learn how to determine if you are using a secure site. Pay attention to the address in your browser. Most secure sites will start with "https://" instead of "http:// ". Don't use the same password for all your accounts. Consider using e-statements.
If you think you have been compromised call your local branch office. Consider reporting the attack to the police, and file a report with the Federal Trade Commission. Place a fraud alert on your credit report. You can contact any of the three reporting companies.
Equifax: 1-800-525-6285 www.equifax.com
Experian: 1-888-397-3742 www.experian.com
TransUnion: 1-800-680-7289 www.transunion.com
Obtain a free copy of your credit report. www.annualcreditreport.com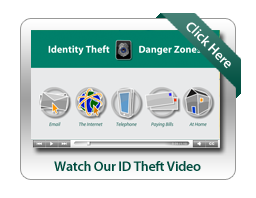 Additional information:
Consumer Federation of America
Additional information about PC updates and antivirus: