Personal
Other Services
ATM1 (Automated Teller Machine)
Convenient 24-hour access to your personal checking, savings, and money market accounts.
Debit Card1, 2
Pay for purchases from merchants and have the funds directly debited from your checking accounts.  Report lost or stolen Visa Debit Cards immediately to Franklin Community Bank, NA during normal business hours, at any of our convenient locations, after normal business hours, report lost or stolen Visa Debit Cards to 1-800-523-4175.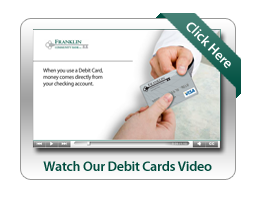 Visa2
Variable rate credit card; Rewards program; Various cards available with no annual fee; competitive interest rates; prompt decisions.
E-Statements/Notices
Receive your bank statements and bank related notices electronically and reduce the risk of paper related identity theft through the mail. You must be enrolled in on-line banking to receive E-Statements/Notices.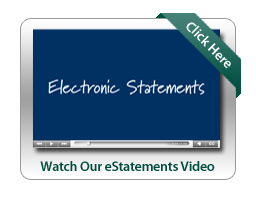 Safe Deposit
Provides security for valuables and important documents. Large selection of sizes; Discounts available.
Direct Deposit
Payroll, retirement, Social Security, or U.S. government checks directly deposited for safety and convenience.
Online Banking
24-hour access to all your accounts, check balances, search for cleared checks, see direct deposits, transfer funds at your convenience.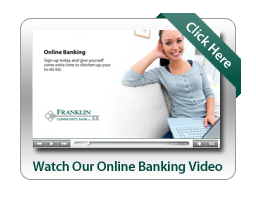 1 Transaction fee by ATM owner may also apply.
2 Normal approval required.  For Visa debit and ATM international card transactions, there will be an international service assessment fee charged against your account.  This fee will be 1.0% of the transaction amount on multi-currency and .8% for single currency card transactions.
3Transfer/withdrawals from your account by pre-authorized or automatic transfers, or telephone instructions are limited to 6 per month or statement cycle.  (including Point of Sale transactions to third parties).